The French CRiP magazine interviewed our colleague Eléonore Varet on the subject of women in IT. Here is the interview:
Eléonore Varet was not expected to be President & CEO of the French subsidiary of USU Group, a European IT solutions provider. She was a lawyer at the Paris bar for more than 10 years. However, this former lawyer who has just published her first novel - La Somnambule et le plafond de verre - has made a career in tech. An inspiring career path for those who hesitate to enter the IT world, especially when they don't have a background in this field.

What is your current job?
I am in charge of operations and business development for USU's activities in France. I lead a team of 30 people to support our customers in the deployment of our software cost management and optimization solutions.

How did you make this 180-degree turn from law to technology?
A meeting. Maxime Pawlak, former President of USU in France, brought me on as his right-hand man before I took over. He was a former client and partner when I was a lawyer and he asked me to join him to structure and develop the company. He gave me a chance with the conviction that as a lawyer who had developed the IT practice of an international firm, I had a good 360 degree view. On my side, I had the intuition that it was a good opportunity and I decided to go for it!

Did you face any disbelief or prejudice?
Not much, the team was welcoming and I quickly found my place. When the USU board asked me to take over the social mandate of President, perhaps some people were a little confused. That said, it was less related to my background than to my recent integration into the structure. The prejudices have disappeared because of the good results.

Was the technical expertise a difficulty for you as a lawyer?
As an IT lawyer, I had an initial level of technical understanding that was useful. However, there are still gaps and I often need to consult with my team to have a better understanding of our clients' technical issues. Collaboration is the key, everyone shares their expertise.

What are the satisfactions you get from this job and this sector of activity?
It's a very competitive and constantly evolving sector with rapid success. Innovation and creativity feed our curiosity. The exchanges are numerous and rich with extremely varied profiles.

3 tips for young women who are hesitant to get into tech.
There is a shortage of talent and great opportunities. Gender diversity and the valuing of women is also important in this sector. I would advise them first of all not to censor themselves and to give themselves this possibility to evolve in a promising sector, and to take an interest in the activities of associations such as Femmes@Numérique to get information and enrich their project and to believe in their success.

What's the latest innovation that has blown you away?
NFTs, which make it possible to trace the authenticity of digital property. It's a revolution in the creative world that raises a lot of questions. At the same time, it's a very volatile innovation and it's hard to say if it will stick over time.

The woman who inspires you on a daily basis?
At the moment, Annie Ernaux, French writer and Nobel Prize winner for literature. Writing is her life, which inspires me since I love literature so much.

What does CRIP mean to you?
A circle of exchange with the key players in the IT industry that allows us to share the major trends, to know the major projects of our customers and to develop a solid network.

The tech woman you recommend to take over from you in the next ITW?
Christine Debray, director of digital transformation at the French Ministry of Culture.

Eléonore Varet in 3 dates (you give us 3 dates and 3 corresponding events):
1997 - I stop ballet and the sport studies program to come back to the bilingual school in the second year of general literature
2006 - after obtaining the certificate of aptitude for the legal profession and a master's degree from HEC, I started working at Linklaters
2020 - I am appointed President and CEO of USU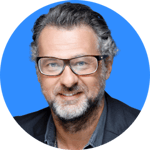 David Abiker
The journalist David Abiker, passionate about all subjects related to the Digital world. He is well known for his columns, his press review every morning on Radio Classique as well as for his TV shows, such as "l'Info du Vrai" on Canal +.