A leading global life sciences company spends hundreds of millions of dollars on software every year. A lot of money, a lot of responsibility, a lot of potential savings. The costs are split between on-premises licenses and Software-as-a-Service (SaaS) expenses. In 2019, SaaS spending amounted to over $55 million. The company has been using professional software asset management (SAM) tools from license management specialist Aspera for some time. The Aspera solution LicenseControl for Cloud is used to manage licenses for two enterprise cloud applications - with great success! To quantify the benefits of cloud cost management and SaaS optimization software as realistically as possible, Aspera commissioned the US analysts from Forrester Consulting to conduct a Total Economic Impact™ (TEI) study.
Forrester's interview with the customer and subsequent financial analysis found that the interviewed organization experienced benefits of $10.2 million over three years versus costs of $2.1 million, adding up to a net present value (NPV) of $8.1 million and an ROI of 383%. The investments were amortized within only 3 months.

Fig. 1: The key financial figures
Why SaaS optimization?
SaaS solutions are rapidly dominating software budgets at most major enterprises: it's where the money goes, and where the savings opportunities are the highest. According to the study, the organization quickly identified 5 key challenges in controlling exploding SaaS costs:
Cumbersome management processes: The data for some 50,000 accounts was collected manually and stored in spreadsheets, making it nearly impossible to get an accurate overview.
Lack of a timely data analysis: Without a clear overview and automatic reporting, Software Asset Management professionals were unable to make timely, sometimes time-critical subscription decisions, making them slow to respond to business needs.
Security concerns: Employees who had left the organization sometimes still had access to sensitive data and systems because their subscriptions could not be effectively managed and deactivated.
Accuracy of data: Data was often unreliable because it was collected manually. The organization wanted to minimize human intervention to ensure the highest data quality.
Compliance issues: With no clear overview of subscriptions, personnel changes, or automated workflows, the organization was continually at risk of violating their terms and conditions and incurring financial penalties.
Although the customer was never at risk of major financial losses because of their SaaS subscriptions, it was clear that they were facing an important and solvable problem. They needed an automated cloud cost management solution that offered SaaS optimization benefits. "It is about savings, cost avoidance, data transparency, the negotiation possibilities", says the Group's central SAM manager, summarizing the goals.
Ride the SaaS cost elevator to the bottom floor
According to the Director of Software Management at the company, "Comparing manual management of licenses with LicenseControl for Cloud is like comparing a bicycle to an airplane." With an automated SaaS optimization solution, you gain speed, efficiency, power, capacity, and perspective. And it shows. Once the organization began working with LicenseControl for Cloud, they were able to solve their most important cloud cost management challenges:
Reduced time and costs for software management
Gained accurate and timely reporting
Limited their risk of security issues
Reduced their compliance challenges
LicenseControl for Cloud ensures transparency
The organization became more flexible because they could see for the first time what was really happening in their SaaS environment. Reliable data allowed them to make informed business decisions about subscriptions and services, breaking down the barriers between them and the buttons and levers that control their revenue engines.
The interviewee stated that upon implementation of LicenseControl for Cloud, the company found that a significant number of licenses were assigned to inactive users and users who had left the company. With accurate, real-time information, he was able to reassign, or reharvest, downgrade, or eliminate licenses quickly, leading to a significant savings. The interviewee also mentioned that this information allows his team to "determine which new SaaS software is truly necessary and which SaaS purchases can be delayed or avoided."
Read the complete Forrester TEI study for free:
"LicenseControl for Cloud gives us the possibility to move licenses from one environment to another…which is really powerful…it's incredible when you see what people are really using and what people are licensed for. Sometimes you can just downgrade user accounts. There are real commercial benefits in having this data."
-Director of Software Management

Fig.2: Overview of savings
Long-term SaaS optimization savings
Not only did the organization see impressive savings on their SaaS costs, but they were also able to realize long-term organizational savings as well. The automated workflows and data gathering tools allowed them to shift employee efforts to higher-level tasks and reassign two full-time employees.
According to the study, the customer achieved $10.2 million in cost-savings over three years and saw a 383% ROI. In addition, these organizational changes resulted in an estimated $343,335 in personnel cost savings over three years, or roughly 3% of the total benefits. Organizational changes like this can reduce operating costs and allow businesses to invest more resources in the bottom line.
In addition to the benefits not quantified by Forrester, such as the improved SaaS security or the significant increase in data quality, there is further considerable potential for savings, especially as the group begins to manage additional SaaS solutions with LicenseControl for Cloud. This planned expansion of their SaaS license management program will allow the company to realize additional savings in the future. Savings and cost transparency add additional value to software licenses, especially in times of crisis.
Interested in the Forrester ROI Study I ?
Read the blog post now !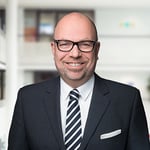 Olaf Diehl
Olaf Diehl betreut als Business Unit Manager die Bereiche Marketing und Produkt Management. Er studierte Betriebswirtschaftslehre an der Philipps-Universität in Marburg. Seit 1998 ist er für die IT Beratung im Bereich ITSM und SAM zuständig, seit 2002 in einer Führungsrolle.