The US analyst firm Forrester has published "The Enterprise Service Management Landscape, Q2 2023", their latest vendor overview for ESM solutions. The report is intended to be a guide for all companies seeking information on current technology vendors in the field of ESM solutions.
An overview of 29

notable

vendors for ESM solutions
The Forrester Landscape provides an overview of 29 vendors for enterprise service management solutions worldwide. Decision-makers can use this report to gain valuable information about how vendors differ, including size and market focus. In addition, the report provides identified top use cases for ESM solutions and lists the core ESM functions. As such, the report serves the purpose of a useful guide and supports companies in identifying and selecting ESM providers.
USU is the only solution provider based in Germany listed among "Large Vendors"
In addition to software companies from the US and other countries, USU was listed among "Large Vendors" in the vendor overview of "Enterprise Service Management Landscape Q2 2023" and is the only listed vendor for ESM solutions with headquarters in Germany.
The recognized strength of enterprise service management
Enterprise Service Management, according to the Forrester report, is "A platform extending IT service management capabilities beyond technology services to address business-centric use cases; managing service demand and supply through a common platform, portal, and service catalog; and speeding up innovation and workflow automation through PaaS/low-code development tooling."
An ESM solution is used to transparently manage service requests from across the enterprise and provides a service catalog. This service portal can support the usual IT service management processes (incident, change and service request management) and improve service delivery for other business areas and use cases.
---

Best Practice Guide: Selecting a new ITSM/ESM tool
Get started with a requirements catalog as the basis for requesting quotations when searching for a vendor.
---
Top Use Cases and Functionalities of ESM Solutions
The report lists 15 key functionalities for the top 10 use cases for ESM solutions. The functionalities are ranked in a table by "primary," "secondary" and "little to no functionality" for each use case. Among others, Forrester lists core use cases such as "Non-IT workflow management" and "AI/ML and automation" for ESM solutions. For both of these use cases, "Process or workflow automation" and "AI support to route, categorize, prioritize tickets" are listed as top differentiators. These two functionalities are most frequently categorized as "primary" across use cases. Subsequently, the functions were also assigned to three extended use cases, "Work collaboration", "Integration with DevOps and CWM" and "Unified endpoint management". For the three extended use cases, "Advanced and predictive analytics" was categorized as "little to no functionality".
USU IT- and Enterprise Service Management Portfolio
As a provider of IT service management and enterprise service management solutions, USU offers a central solution that improves cross-departmental processes in administration, customer service or technical service. This means that a standard solution can be used to digitize all service processes, IT and non-IT, within a company.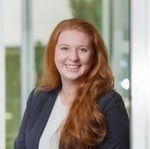 Frauke Hübner-Kirsch
Frauke Hübner-Kirsch has been Product Marketing Manager at USU since the beginning of 2022 and is responsible for the areas of Service Management and Hybrid Cloud Management. She brings with her broad expertise from the B2B environment at leading software houses, including in the areas of industry-specific ERP systems, automation, big data and cloud software.