The use of generative AI is revolutionizing IT. This year's Gartner conference IT Symposium/Xpo™ 2023 was marked by disruptive changes and the era of AI. The entire IT intelligence community gathered for four days in Barcelona under the theme "Unleash possibilities in a world in permanent flux," with over 8,000 participants discussing the future of IT. Our USU experts were on-site, sharing the most important insights from a multitude of inspiring meetings, talks, and conversations.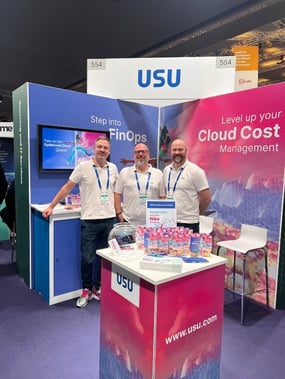 AI as "KEY" - the New Era of Human-Machine Relationship
Unsurprisingly, the rise of generative AI and its disruptive impacts on businesses were the focus of the opening keynote "The Next Era − We Shape AI, AI Shapes Us." Gartner analysts believe we are entering a new, transformative era where AI will be integrated into everything humans do, similar to the internet's emergence in the 1990s. "Machines are evolving from our tools to our teammates," the analysts say. By 2025, AI is expected to be a working partner for 90% of companies worldwide.
In the future, AI will not only be integrated into teams but also act as a customer. Machines will request goods and services, negotiate the best price, and purchase them (see What to know about the Top 10 Strategic Technology Trends). By 2028, according to Gartner, there will be 15 billion connected products with the potential to behave like customers – and more billions will dynamically follow. By 2030, this will impact purchases worth billions of dollars.
There are two types of AI: "Classical" AI focuses on productivity, making what we already do faster and more efficient. However, creativity-focused AI will be a "game-changer": It will create entirely new kinds of value, products, services, business models, and even new industries. CIOs can help their CEO and CxO colleagues penetrate AI complexity and define their company's AI ambitions by examining the opportunities and risks of using GenAI.
Cloud Cost Management - Not Just a USU Focus
In addition to exchanging information about best practices, trends, and the future of IT strategies and corporate technologies, we also had a much-discussed presentation on "Optimized Cloud Quest: A Roadmap for Cost Management Success."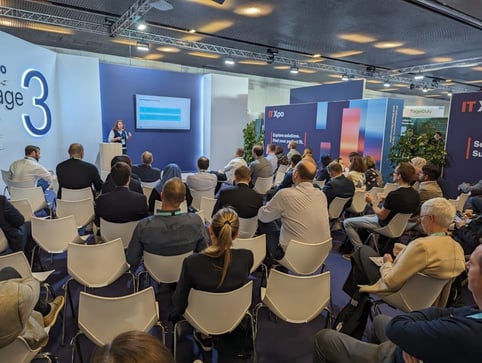 "The complexity for companies has increased enormously due to dynamically growing multi-cloud environments. New technologies create transparency and orientation, allowing CIOs and FinOps teams to steer their IT worlds strategically and operationally better and more cost-optimized," summarizes Rebecca Horton, Director & Business Lead at USU.
Gartner statements that 30% of the cloud budget is caused by unused cloud resources are well supported by practice. Regularly, the difference between the dimensioning of the infrastructure and the actual use is too high. Often, cloud services, e.g., storage space or CPU, are ordered or provided but not integrated into the workload. Recognizing workload usage patterns and deleting unused instances is therefore the essential task of Cloud Cost Management. Given the current economic and social instability, IT cost optimization was a common theme throughout the event's content.
Attracting IT Top Talents – Including Through Promotion of Neurodiversity
One of the most pressing problems for companies is the lack of IT talents. Accordingly, competition is fierce – half of the applicants received three or more offers in their last job search. Generally, commitment to the employer has significantly decreased: Many are still with one foot in the job market. And in the last 12 months, half of the applicants accepted an offer and then canceled it before they started. Proven practices that CIOs should follow to attract top talent include:
Using the large pool of passive IT candidates
Redesigning IT job advertisements creatively to stand out and convince
Improving your IT company's image with a value proposition for IT staff
Actively and early considering the needs of applicants in the hiring process
Implementing several flexible working models. Most companies have at least three models in their workforce.
Organizations should definitely establish a diverse corporate culture, which also allows the hiring of neurodiverse talents. Neurodiversity offers a competitive advantage through unique abilities and perspectives that drive innovation. And Gartner predicts that by 2027, a quarter of Fortune 500 companies will actively recruit neurodiverse talents with conditions such as autism, ADHD, and dyslexia to improve company performance.
The Expanding Role of CIOs
The scope of CIOs' tasks is steadily growing. They are still responsible for the classic areas of IT applications and IT infrastructure, but according to Gartner, 62% are now also responsible for the company's digital transformation. For this, CIOs must be able to advise the executive management and simultaneously act as a trusted partner for other business areas.
By 2024, CIOs are expected not only to be suppliers of technology but also to actively and responsibly participate in shaping the company's business model. It is necessary to create an environment in which the entire company can participate in the technology strategy. CIOs' tasks include establishing a culture in which employees are empowered to take digital initiatives. One of the most important qualities of a CIO is agility, to quickly adapt to changing business requirements while maintaining operational excellence.
Other important aspects, tools, and skills for CIOs to meet increasing challenges include:
Strategic cooperation with CxOs to share resources, funding, and responsibility for implementing digital initiatives.
Building and maintaining a strong network within and outside the organization to exchange ideas and best practices. Emotional intelligence is a critical success factor.
Providing guidance when change is the only constant. CIOs foster a continuous improvement process that supports innovation and agility.
Franchising in digital delivery. With franchise models, companies worldwide use ecosystems to achieve scale effects, overcome budget and talent constraints, and reduce risks.
Key technology investments for cybersecurity, data analytics, cloud platforms, and integration technologies - as fundamental prerequisites for fusion teams.
"Sustainability" is the Year's Climber
The latest Gartner survey among CEOs showed that environmental issues were included in the top 10 priorities list for the first time, says Bettina Tratz-Ryan, VP Analyst at Gartner. CIOs are under increasing internal and external pressure to make their IT more sustainable. By 2027, 25% of CIOs will receive compensation linked to their impact on sustainable technologies. 64% of CEOs stated that the combination of digitalization and ecological sustainability represents a growth opportunity. Gartner analysts examined at the symposium how IT and AI can support ecological sustainability.
Preparation for sustainability applies to cloud and storage, infrastructure and operations, digital threads, and the rapidly growing adoption of AI. Especially the latter leads to a growing ecological footprint. Gartner predicts that AI could consume up to 3.5% of global electricity by 2030. "AI consumes a lot of electricity and water. These negative impacts should be mitigated," says Pieter den Hamer, VP Analyst at Gartner. "Executives should be aware of the growing ecological footprint of AI and take active measures to contain it. They could, for example, prefer (cloud) data centers powered by renewable energies." Public cloud providers play an important role here, as they can cause 70 to 90% less greenhouse gas emissions than traditional server rooms, own data centers, and medium-sized data center facilities.
Energy-intensive AI causes high electricity consumption on the one hand, but on the other hand, it also offers great sustainability opportunities, as it can be used, for example, to predict demand more accurately and reduce the consumption of raw materials and energy in production.
IT Needs AI. AI Needs Humans.
And our conclusion? As the USU team, we experienced the future of IT up close and in many facets during the four jam-packed days in Barcelona. The opportunities (and risks) of generative AI played a key role. But dealing with technology alone falls short. Agile organizational structures, establishing cross-functional diverse teams, and many other "non-technical" challenges must be mastered so that innovations can be used in everyday business to create value.