Managing internal information is increasingly complex. This is particularly challenging when handling multiple customer service channels, applications and agent turnover. Complexity makes consistency and accuracy difficult. So how can you simplify things without sacrificing KPIs or customer experience?
Agents face this challenge daily and need consider a multitude of factors, possible causes, and solutions to each request. With so much information available to customers online, inquiries are also becoming more complex.
Customers can find the answers for simple issues themselves and tend to reach out for difficult ones. This leads to:
Longer training times
Insecure agents
Lower productivity
Decreasing First Contact Resolution rates
What are Decision Trees in Customer Service?
Decision tree technology is a simple yet powerful way to assist agents handling complex requests. It is a simple If-then workflow which guides someone through a specific process, providing next steps and solutions based on each answer given.
Consider how the answer to simple questions like "Do you use Android or iOS?" or "Are you a U.S. citizen" impact the next question and steps to follow.
By building custom decision trees for your products, agents are actively guided through service inquiries step by step. This ensures:
Consistent performance throughout your contact center
No questions skipped or forgotten
Increased FCR & fewer call transfers
Happier agents
Using our simple visual creation tool, users can create a troubleshooting workflow with branches based on customer responses, all without writing a single line of code.
What is a Guided Dialogue or Guided Solution?
Guided dialogues are the agent-facing front-end of a decision tree. Instead of the workflow view with branches for different customer responses, the agent clicks through a simple text and image-based dialogue. They are widely used for technical troubleshooting, for example trying to solve an issue with Microsoft Windows.
In the customer service world, it can be used for scripting solutions (but not the dialogue itself), step by step instructions or process manuals to replace long text-based documents.
Imagine calling your insurance company to change an existing policy. The agent needs to check several conditions including:
Marital status
Existing policy details
How long you've been a customer
Health details
All these criteria influence the outcome and which, if any, solution is possible.
With a knowledge base that includes decision tree technology, all these questions are pre-defined, and agents can easily go through a request step by step. This ensures consistency among agents, whether experienced or brand new. Customers are satisfied and get the help they need, faster and without transfers. Decision trees will not only impact your first contact resolution rate, they will also provide the foundation for your future customer experience and NPS.

It Improves Training too!
Decision trees not only help with direct customer service but also training. The question and response pattern can be used for your agent training to reduce on-boarding time by up to 80%. Even experienced agents benefit because they no longer need to know every possible complex request by heart. Having issues with agent turnover? Decision trees help you to make new hires productive from the very first day on the floor.
How to Approach Guided Dialogues & Decision Trees
Guided dialogues are the agent-friendly interface that decision trees underpin. To get started, we recommend the following:
Identify your simplest inquiries (for example those already answered in a FAQ).
Map them out and limit them to no more than 5 subsequent questions.
Deploy them in your contact center and monitor performance and feedback.
Once the first few guided dialogues have been successfully implemented and used, it's time to identify key areas where the need is most critical. These will be more complex issues where the solution is often dependent on multiple factors and where agents lose a lot of time troubleshooting.
Complex requests and service processes must consider multiple conditions and scenarios meaning they consist of different branches based on customer answers. This is where our graphical user interface really shines, enabling users to visualize the process without complex coding or logic.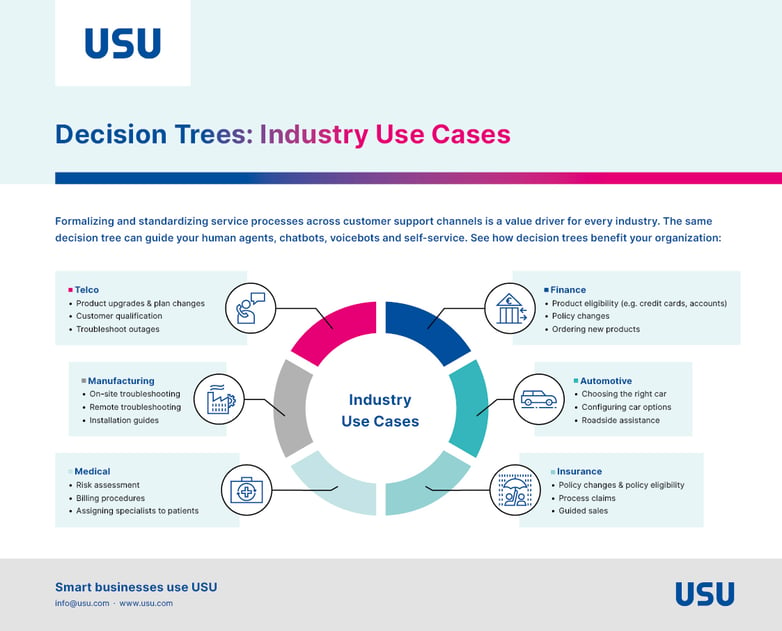 Don't Go Overboard
Not every customer request requires a decision tree! The goal is to save time on complex inquiries while increasing consistency and service quality. The time saved is then available for other requests which will immediately increase your overall efficiency and number of handled calls.
Decision trees build the future for your contact centers
Decision trees create clear, defined workflows that can be measured, evaluated and optimized. This is a welcome change for both managers and agents who benefit from greater transparency and consistency. With your whole team on the same page, it makes monitoring overall performance easier as well as identifying which areas work well and which need improvement.
See how to power multiple support channels with 1 decision tree

Decision Trees for Self-Service, Chatbots & Alexa
Implementing consistent service workflows via decision trees will make agents happier, more efficient and your customers too. Moreover, the exact same decision trees can also be used as the basis for customer-facing self-service processes on your website.
For many millennials this isn't the future, this is what they expect right now. In addition, existing decision trees can be combined with AI and natural language processing to form the brains of your chatbot or even Skills for voice assistants such as Alexa!
Finally, decision trees can be integrated into 3rd party applications such as Zendesk or Salesforce. With these integration capabilities, companies will get more out of their existing must-have applications.
Learn how to use decision trees with a knowledge base or request a demo.
Chris Rall
Chris joined USU in 2016 as a Sales Manager. Chris has a strong background in application management and over 5 years software industry experience. Prior to this position he worked for Vodafone and IBM, giving him the ability to easily understand process and service challenges within enterprise organizations. Chris is the right person to accompany the buying process for USU products on every step of the process and to ensure the future success of your service department. In 2018, he joined our United States team as part of our growth strategy and he is now responsible for new business opportunities and customers in the US. Chris has a Bachelor of Science degree from DHBW Stuttgart in Application Management.