Quick recap of Software Asset Management Strategies (SAMS) Europe 2023 in Amsterdam, which took place from September 24-26, 2023. I'd like to share my key findings from the event that focused on these topics: Increasing Transparency, Reducing Software Costs, and Progressing SAM Maturity.
Amsterdam is surrounded by cute buildings, historical canals, nice cafés, and lovely people. The Dutch capital counts more than 165 canals and 1753 bridges - an environment where you can easily loose direction. What you need is an GPS, a reliable navigator, that provides orientation and helps bring you to your next destination.
I like this picture because in the IT world, thinking of on-prem, SaaS and cloud computing, a navigator would be a tool that can handle such complexity - by delivering visibility, control, and trust. Know what you own, who is using it and when.
That outlines the story we, the USU team, wanted to deliver during the event answering two main questions:
What are the

most relevant ingredients of ITAM?

What role does ITAM play in enhancing a business strategy?
In fact, IT asset management (ITAM) is about much more than creating a map, or an asset inventory, it's no longer just about counting licenses and managing software installations. ITAM has transformed into a multifaceted discipline that encompasses hardware, software, cloud assets, and drives true business value.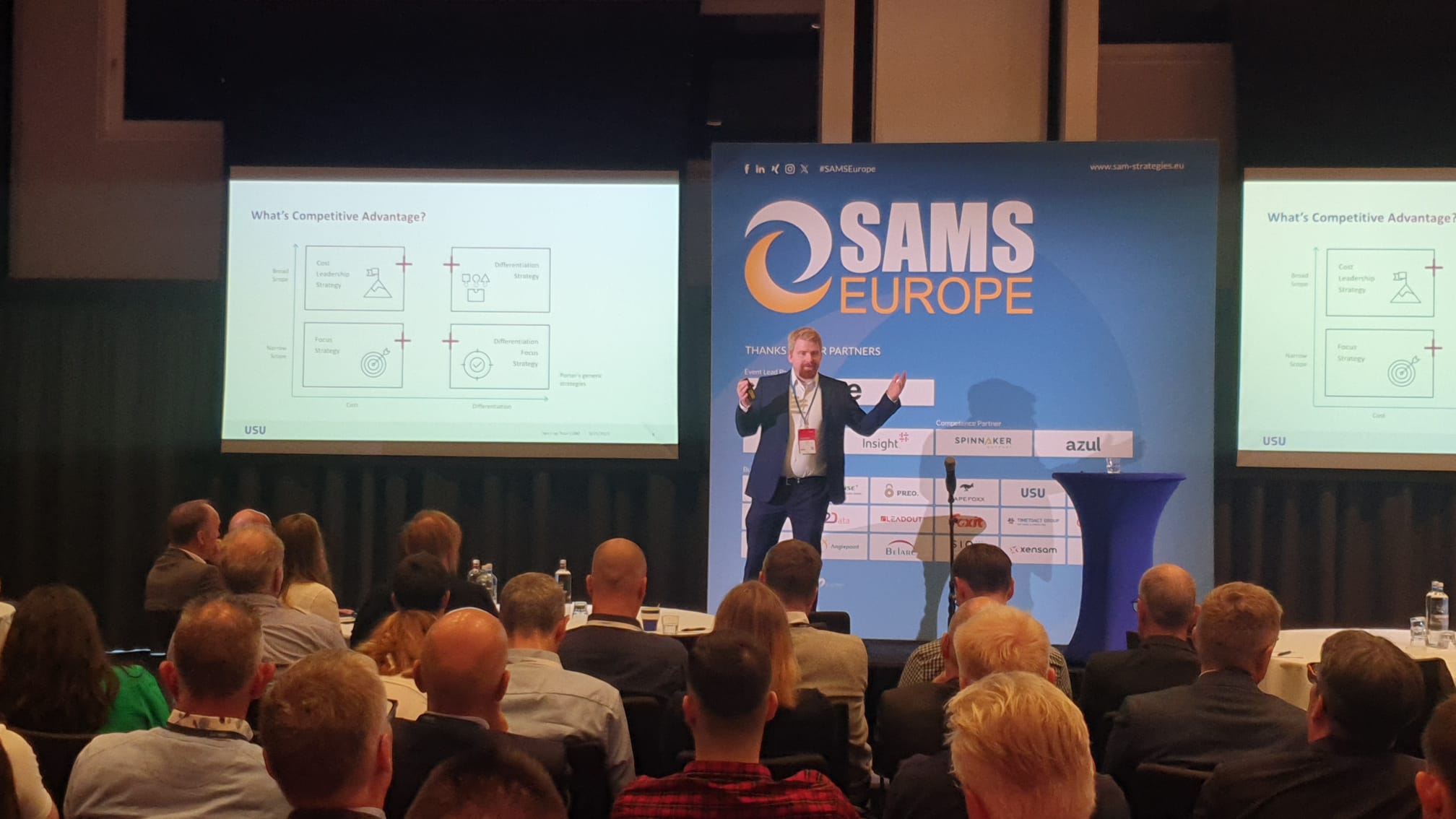 USU's Fabian Gutschera – Team Lead Sales Engineering, during his presentation
Insider Buzz from SAMS Europe 2023
SAMS Europe in Amsterdam was a big come together for the international SAM community. The event provided a glimpse into the future of ITAM, offering valuable insights, innovative solutions, and a roadmap for the industry.
Efficient ITAM has emerged as a critical component for organizations seeking to optimize costs, ensure compliance, and enhance overall operational efficiency. During his speaking slot my colleague Fabian shared interesting and essential Key Performance Indicators (KPI) that ITAM can deliver. By avoiding unnecessary purchases and optimizing the use of existing resources, ITAM lowers spend by reducing licensing and maintenance costs and eliminating waste. Thus, the overall efficiency is improved.
Also, ITAM increases output by better software vendor control, customized reporting to multiple stakeholders and higher ROI of your deployed software resources.
My Top 10

highlights from Fabian's presentation were:
ITAM KPIs to

Lower Input

ITAM KPIs for Higher Output

Total software costs
Hardware costs
SaaS costs
Number of total providers
SAP/Oracle spends

Managed Portfolio spend
Request answer duration
More vendors under control
Additional HW under control
More reporting / stakeholders
---
Recommendation:
Learn how to successfully bring complex IT environments under control and to navigate relevant KPIs. Our white paper with ITAM Review, "Foundations of Modern SAM", explains people, processes and technology.
---
Another important aspect Fabian brought up was how ITAM could add value to competitive advantage.
What does competitive advantage mean? This term was coined by Michael E. Porter, an economist and Harvard professor. Winning business strategies are grounded in sustainable competitive advantage. A company has competitive advantage whenever it has an edge over rivals in securing customers and defending against competitive forces.
To succeed in building a competitive advantage, a firm must try to provide what buyers will perceive as superior value - either a good product at a low price or a better product that is worth paying more for.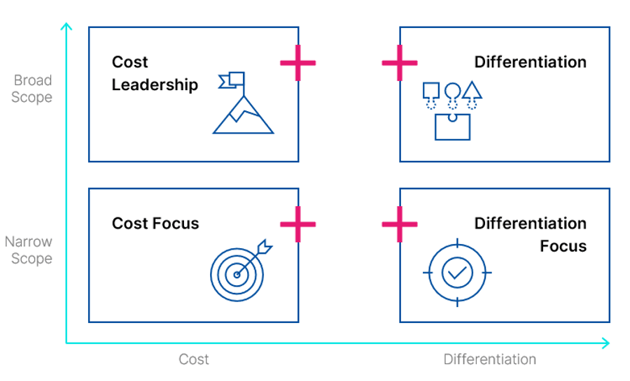 Michael E. Porter's Generic Competitive Strategies
How can ITAM

add value to your competitive advantage?
According to research firm Gartner, IT asset management "provides an accurate account of technology asset lifecycle costs and risks to maximize the business value of technology strategy, architecture, funding, contractual and sourcing decisions."
So far so good, but what does it mean for your business strategy? Here you go:
Cost Leadership Strategy:
ITAM helps identify and eliminate redundant or underutilized software and hardware, reducing unnecessary costs.
It enables effective procurement and vendor management, negotiating favorable contracts and discounts to achieve cost savings.
ITAM optimizes the lifecycle of IT assets, extending their usability and reducing frequent replacements or upgrades.
Differentiation Strategy:
ITAM ensures that the company has access to the latest and most innovative technologies, supporting the development of unique products or services.
It provides insights into customer preferences and technology trends, guiding the company in creating distinctive features or functionalities.
By managing software licenses, ITAM helps avoid compliance issues that could harm the company's reputation and differentiation.
Cost Focus Strategy:
ITAM enables the identification of specific IT assets and resources that cater to the needs of the target market or niche.
It helps allocate resources to focus on the unique requirements of the selected market segment.
ITAM supports customization and personalization efforts to meet the specific demands of the chosen niche.
Differentiation Focus Strategy:
ITAM ensures the company maintains a technologically advanced position, allowing it to anticipate and respond to competitors' moves effectively.
It facilitates the rapid deployment of new technologies or upgrades, preempting potential competitive threats.
By monitoring and analyzing industry trends, ITAM assists in identifying emerging opportunities or challenges, enabling proactive actions.
As you can see, there are multiple ways how you can leverage IT Asset Management for strategic benefits. The ever-evolving landscape of information technology has made ITAM a crucial element for organizations striving to achieve operational efficiency, cost optimization, and enhanced security.
In Amsterdam, we had the great opportunity to discuss with customers and prospects pain points, like data-driven decision-making processes, license management automation, or cloud cost optimization. Also, we could demonstrate why a well-implemented ITAM program is indispensable for modern organizations.
An insight I gained from these conversations is that data will continue to be the driving force behind ITAM. Organizations that harness the power of data analytics derived from a SAM program will be better equipped to make informed software decisions, optimize usage, and predict future requirements.
---
Recommendation:
Read why complete and accurate data is crucial and only a first step to managing a software estate. In our white paper "The Data Discovery Pain in the As-a-Service" we explore critical strategies for data collection in the cloud.
---
According to Deloitte, only 38% of organizations have a fully implemented ITAM program, while 24% have not implemented any ITAM measures at all. Obviously, there is a lot of potential, so we hope that you can harness ITAM's strategic advantages to drive business success, for your specific organization now.
I for sure gained a comprehensive view at SAMS Europe 2023 of the evolving ITAM landscape and the challenges and opportunities that lie ahead for us. Moving forward I'm excited to work with customers, helping them navigate this dynamic and ever-changing field, ensuring that their programs thrive.