On May 17, in the heart of London, we attended the first ITAM Forum Leadership Summit in Leicester Square, led by founder and analyst Martin Thompson. The focus of this meeting was the developments and challenges that ITAM managers are facing and how they can best meet them.
It was a successful day full of lively discussions, insights, and idea exchange with ITAM managers, analysts, industry experts, and solution providers who want to further advance and professionalize the topic of ITAM.
We have summarized the three biggest challenges facing the ITAM industry, and the best approaches for you to solve them.
Challenge 1: Lack of support and visibility
IT asset managers optimize both software and hardware throughout the entire lifecycle, from deployment, distribution, and maintenance to decommissioning and phase-out. They are indispensable for the functioning of modern enterprises and can contribute significantly to increasing efficiency, lowering total cost of ownership, and reducing risk.
Unfortunately, there is often a lack of understanding at C-level management of the added value that ITAM provides to companies. If you lack support in your organization, it is essential to clearly communicate the benefits and gains of your work, and to convince internal stakeholders.
A change of perspective can also be helpful. How can you use ITAM to help your company achieve its business goals? Perhaps your C-Level does not care for asset management. It's your task to show how you can help them save costs, minimize financial risks, or achieve sustainability goals.
It is also possible that topics such as security and FinOps are at the top of the list right now - make it clear how your ITAM can improve these areas as well.
Want to know how to engage management stakeholders, and ensure their long term and maximum support? Download our free white paper on Business Aligned SAM.
Challenge 2: Shortage of specialists and resources
ITAM tasks are becoming increasingly extensive and complex, but resources to handle them are limited. Many companies face the challenge of finding specialists with the right qualifications and filling vacant positions.
The ITAM Forum has set itself the task of providing more information about career opportunities in the field of ITAM and making the job description of asset managers more appealing to future generations.
Another helpful approach is to provide a skills matrix of what ITAM managers should know at different career stages and positions. This should make it easier for recruiters to select qualified candidates and show ITAM managers which areas they can develop further.
Companies are also countering the shortage of skilled workers with technology and automation. To relieve the strain on internal resources, it might make sense to involve external resources such as consultants or managed services.
Learn how to successfully bring complex IT environments under control. Our white paper with ITAM Review, "Foundations of Modern SAM", explains people, processes and technology.
Challenge 3: Lack of standardization
One of the main objectives of the ITAM Forum is to establish standards for ITAM and create a scheme for the certification according to ISO 19770. The certification includes a total of 15 processes in the areas of data management, lifecycle management and optimization.
With the certificate, companies receive an independent, internationally recognized seal of quality for their ITAM practices towards partners, customers, and stakeholders. The certification system will also help the ITAM industry as a whole in gaining reputation and becoming a recognized business practice.
If you are considering getting certified, please raise your interest now. A member of the ITAM Forum teams will contact you to explain the next steps.
Find out more about ITAM certification for ISO 19770 on the ITAM Forum website.
Conclusion
After a summary of the day's sessions and closing remarks by founder Martin Thompson, the first ITAM Forum Leadership Summit came to an end. We took away many inspirations and the realization that London is always worth a trip. Will we see you at the next meeting?
As a non-profit organization, the ITAM Forum brings IT asset managers and industry experts together. With sponsors like ourselves and other patrons, it's a small but growing community with a mission to show the added value that ITAM offers companies of all sizes and in all industries.
Join the ITAM Forum today – it's free -- and network with an expert international community.
We look forward to seeing you next time!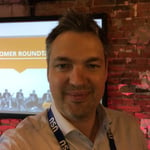 Johannes Biesing
Johannes Biesing is director sales at USU.