Support for ERP/ECC 6 x will end in 2027, by which time—at the latest—companies will have to have migrated to S/4HANA unless they are planning a complete system change to other ERP software vendors.
Such a change is not trivial, and especially due to the different licensing models, there are a few things to consider. In this blog, I'd like to address a few of our customers' pain points and provide tips on how to make the migration less painful.
In search of the business case
Most SAP ECC (R/3) customers have spent years fine-tuning their ERP systems to build highly efficient "systems of record." As a result, many companies are currently struggling to make an acceptable business case for upgrading from SAP ECC to SAP S/4HANA, when it is not entirely clear whether the business benefits are in-line with the expected costs.
The business case for S/4HANA requires much more than just a change in technology, such as a simple software upgrade or a cloud migration:
To get the most out of S/4HANA, processes need to be re-engineered.
New, more expensive licenses must be purchased without possibly having already recouped old investments.
SAP software remains expensive - despite possible high discounts during contract negotiations.
The licensing model has changed completely and must first be understood.
There is simply a lack of SAP specialists and specific know-how.
Core functions that ECC used to cover are now being replaced by new add-ons (Ariba, SuccessFactors, Concur, Hybris, and many more...).
Different SAP landscapes (SAP multiverse) must be measured, and the overview must be kept.
However, recent surveys of SAP customers show that confidence in moving business processes to the cloud is growing, not least because of the enhanced functionality, new technology, and maturity of S/4HANA as a modern "digital core." So, everything is not so bad?
Kind of. When asked by DSAG and ASUG which SAP ERP solution companies worldwide currently use, approx. 45% said they are either using or in the process of deploying S/4HANA.
S/4HANA Cloud plays a comparatively small role, especially in German-speaking countries: Only 6% of respondents use S/4HANA as a private cloud solution, and 2% as a public cloud solution.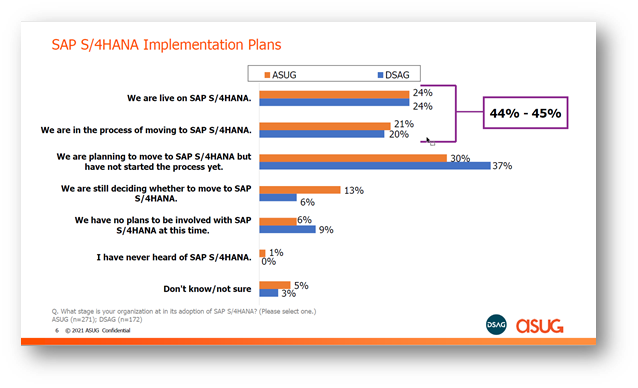 Source: ASUG 2021


---
---
Greenfield or Brownfield—which SAP license model is right for me?
Many SAP customers are rightly wondering what will become of the expensive ECC licenses that are under maintenance. The SAP management argues that S/4HANA is completely new software that needs to be re-licensed.
The good news is that SAP has given its customers a choice: Because, in principle, SAP customers can either keep the current license agreement for as long as possible, as it exists under SAP ECC (Product Conversion/Brownfield), or they can perform a new implementation under a new license agreement (Contract Conversion/Greenfield).
With Product Conversion, you have the option of using S/4 products at a manageable cost. For a relatively low fee of €9,000 (flat fee), existing SAP customers can transfer all previously acquired usage rights to the S/4HANA world. Only SAP Engines must be purchased additionally, such as LoB (Lines of Business) and Industry Solutions.
This gives customers the time they need to negotiate sensibly with SAP about the conditions under which a contract conversion would be acceptable later. But beware: Software solutions from the SAP ECC world can continue to be used under SAP S/4HANA until December 31, 2025, at the latest.
Contract Conversion first determines how much the customer has spent on their SAP software that is currently still under maintenance. This amount is credited for the new purchase of products from the S/4HANA price list, considering all discounts.
This crediting also considers those products which are no longer used or only used to a small extent. It is therefore a good opportunity to part with "store goods" (shelfware). However, this only works if additional SAP software is purchased. The amount credited may not exceed 90% of the new purchase amount.
There is no silver bullet here, but Product Conversion does, in some cases, take over "legacy" licensing. With Contract Conversion, you can only license products you need, and which are in use. Be sure to ask for a calculation of the cost differences and check which products are covered!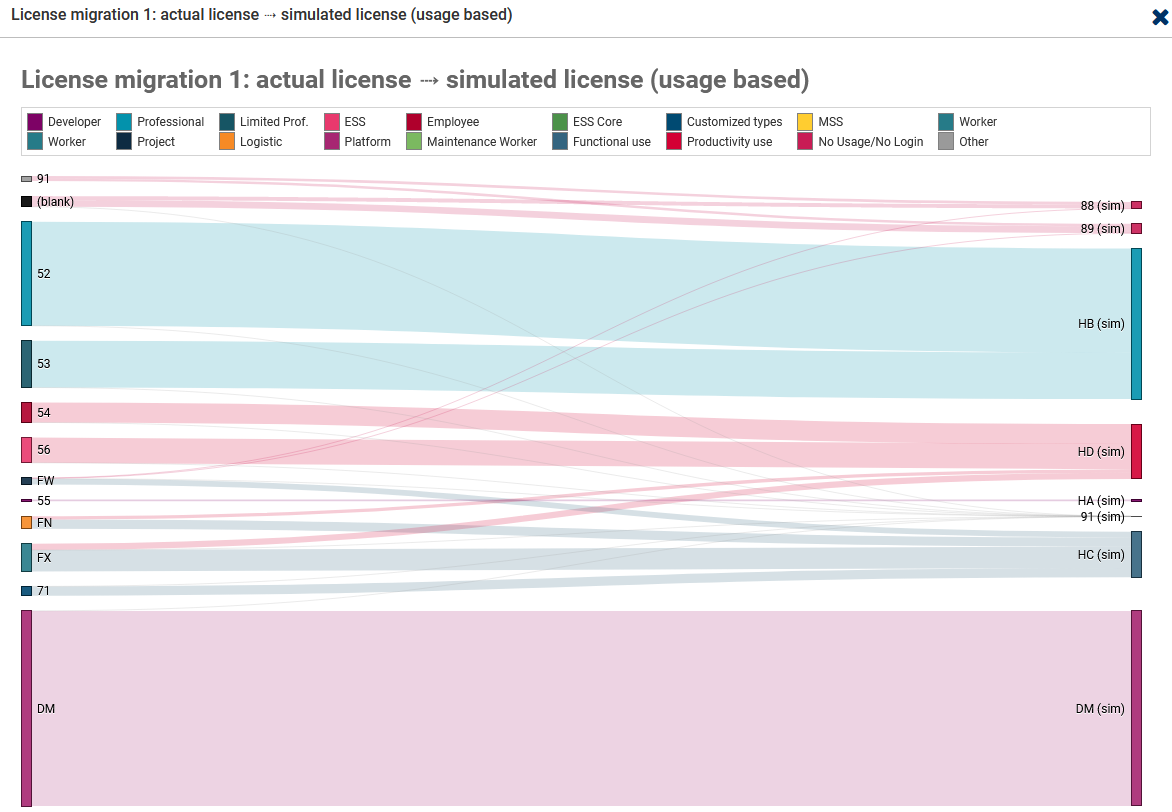 Source: USU
Fig.: Simulation of license costs about new SAP user types with S/4HANA—USU Optimization for SAP® Software
When planning future SAP investments, it also plays a role whether Contract Conversion or Product Conversion is more suitable. So, when planning, you should not only consider current needs but also keep an eye on future investments.
Pay attention to the relevant use types
While the new licensing approach is meant to simplify the process, that simplification comes at a price: In the new licensing model, they removed most of the "named users" that SAP customers relied on to lower licensing costs.
Frequently used SAP Named Users such as "Limited Professional," "Worker User" and other special user licenses were not given adequate replacements with the new model.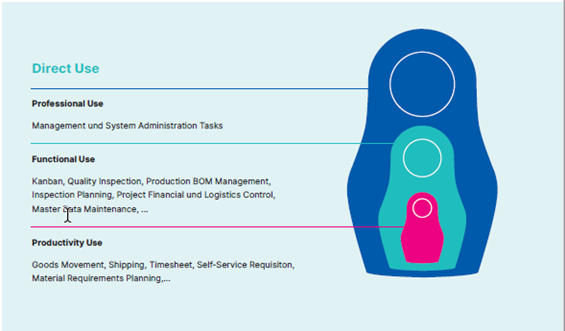 Source: USU
Fig.: The new use types for named user licenses distinguish only 6 application scenarios. The three most important ones are shown here.
When deciding whether to go with Product Conversion or Contract Conversion for SAP S/4HANA licensing, the use types used play an important role, because the old types and their flexible options no longer exist with S/4HANA.
6 things to check before entering contract negotiations with SAP
First,

use a software asset management tool and

take an inventory of all existing licenses (including shelfware and special agreements).
Find out which user licenses you need for an S/4HANA contract. SAP User Types have been completely redefined—to some customers' advantage, but far more often to their disadvantage.
Whether Product Conversion or Contract Conversion is the right option for you: SAP wants to make S/4HANA a success story, which is why you can currently negotiate high discounts—you should have these guaranteed for subsequent purchases as well.
Regulate in the new contract what might have caused problems in the past: SKU numbers must be included in the contracts, metrics must be described precisely and unambiguously, as well as their technical measurement, etc.
Have a comprehensive and long-term configuration right granted. Otherwise, you end up with many products in the contract again, for which maintenance must be paid, but which are not needed—or only to a lesser extent.
In the contract, regulate what is to happen with ECC products for which there is not yet an S/4 successor product, because not every R/3 application has an S/4HANA equivalent. This could then become a major problem if, for example, applications are business critical.
Conclusion
When planning and implementing your S/4HANA migration, you need to evaluate which license model better fits your company's needs or is more economical. On the one hand, this depends on the price, but also the future contractual basis.
With professional SAP license management software, you can simulate and calculate software usage and the financial impact of contract conversion or product conversion without spending a lot of time. Thus, you know the costs for both variants and can choose the most favorable option for you.
---
| | |
| --- | --- |
| | S/4HANA Migration: Navigating the SAP® Multiverse |
---
Useful links:
Gartner: Reduce Unexpected Licensing Costs with SAP SaaS
SAP Transformation Navigator: Identify relevant S/4 products to map your processes
SAP Indirect Access vs. Digital Access: Get the basics of the Contract Conversion right
Myrja Schumacher
For more than a decade, Myrja Schumacher has specialized in SAP and Software Asset Management (SAM) for SAP. Her hands-on experience includes consulting, license management, contract management and all kinds of SAP® related projects.