Microsoft's software license compliance strategy is avoiding the "overt" software license audit. Instead it prefers to request a "friendly" review with its customers to check Microsoft license compliance and requirements.
No matter how informal it feels, it's crucial to treat the "friendly" review as if it's a software license audit.
Just like a software license audit, your "friendly" Microsoft license compliance review can be an opportunity to find cost savings, prepare your cloud migration strategy, and make your relationship with Microsoft a bit friendlier.
Compliant cloud migration
Let's start with migrating to the could compliantly.
Adding cloud options to your IT estate can hurt during a "friendly" review with Microsoft. As things bounce between on-premises and the cloud, the risk of non-compliance increases.
Software costs can rise without your knowledge when your company works more in the cloud. And there's no place to hide. Hybrid is new norm.
A pain in the Microsoft Azure?
Azure, Microsoft's cloud platform, is a useful tool for running virtual machines, applications, and test systems. Microsoft tempts you to move your stuff to Azure with helpful incentives. This is good, until you overstep those incentives.
Hybrid Use Rights, which go under a few similar names, let your Windows Servers and SQL servers move into the Azure cloud with no additional licenses. So, you're saving a lot of money. But! There are conditions. Before we get into that, let's briefly go over Windows Server licensing basics for on-premises scenarios:
A minimum of 16 core licenses is required for each physical server.
A minimum of 8 core licenses is required for each physical processor.
When all the physical cores in the server are licensed, the Standard Edition provides rights for up to two Operating System Environments (OSE).
For each additional virtual machine, all the physical cores on the server must be licensed again, and you stack the licenses as needed.
A Datacenter Edition includes rights to use unlimited number of OSEs on the licensed server.
Now take those servers into the cloud!
If you have Windows Server licenses with active Software Assurance, then you can profit from Azure Hybrid Benefit rights. You don't need to submit any forms to Microsoft partners stating your eligibility for those rights, just tick a box in Microsoft Azure admin console "Azure Hybrid Benefit" and boot up the new instance in seconds.
Remember – here's one of those conditions – a set of 16 core Windows Server licenses with active Software Assurance allows two virtual machines (VM) with eight cores each or one VM with 16 cores in Azure Cloud or you can stack licenses to run more cores in Azure.

Different versions, different use rights
When migrating with Windows Servers, standard "Alternative Rights" apply, meaning that you either use it on-premises or in Azure cloud. If you have licenses for Datacenter with Software – you are granted "Additive Rights" for use in Azure, meaning you get to use it on-premises and in Azure cloud.
Once again, if you have 16 core Windows Server licenses with active Software Assurance, then you'd get up to two VMs in Azure cloud.

FYI on Microsoft SQL
SQL Servers only get "Alternative Rights," so they're either on-premises or on the Azure platform. But you get a 180-day "Dual Use Window" while migrating workloads to Microsoft Azure when they can be in both environments.
If you're allocating SQL Server Licenses for use with SQL Server virtual machines under the Azure Hybrid Benefit, you can also run passive failover instances on Microsoft Azure in anticipation of a failover event. But the number of licenses that would be required for those passive failover instances must not exceed the number of licenses required to run the corresponding SQL Server Virtual Machine under the Azure Hybrid Benefit.
Who's out of Office 365?
Not monitoring your Office 365 estate means you might be leaving money on the table with Microsoft. Pricey subscriptions with lots of features will be, almost inevitably, underused, and duplicate or redundant licenses will hide in your O365 estate.
How do you get some of that money back? Start with looking at actual usage. Those licenses you bought and allocated earlier might not be needed, so adjust or downgrade them to smaller, more affordable licenses. That could save thousands in an enterprise-sized organization, and it might impress your bosses too.
You might say it's pointless because your organization is locked in an Enterprise agreement for another year, an agreement that requires your organization to use a higher Office 365 edition than is needed. In that case, you can start preparing for the upcoming renewal negotiation far in advance. Analyze usage based on specific departments/business roles and applications used. Sometimes the cheapest way to license is not buying the whole bundle at a discounted rate but acquiring only single components for departments that perform limited tasks.
Next, look out for duplicates when employees move within your company and unused licenses when growth projections don't live up to their expectations. But don't stop there.
Software license audits in the cloud?
While the cloud might be new territory for your Software Asset Management program, it has been thoroughly mapped by vendors. The "friendly" reviews fit into Microsoft's strategy. While pushing its cloud solutions, Microsoft uses the review as a less rigorous check on cloud licenses and to sell more subscriptions. The "friendly" reviews also keep customers in the Microsoft eco-system – who can say no to a friend?
Although software license audits won't be a big challenge in the cloud, controlling your cloud costs will be. Cloud Software Asset Management can avoid duplicate licensing and keep track of all your licensing and subscription entitlements, so you don't blow your IT budget on Office 365 subscriptions and Azure licenses.
The challenge in hybrid environments will be to avoid buying license for on-premises and in the cloud. Know which licenses work where, and whether your existing on-premises licenses give you rights in the cloud or vice-versa. While the future might be in the cloud, the present is in hybrid environments.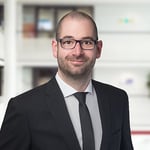 Christopher Brune
Christopher Brune has 10+ years of experience in the IT and Software Asset Management industry. Before joining Aspera, Christopher worked as a SAM Consultant with focus on tool evaluation, license verification process, and audit assistance, particularly on Microsoft related projects. As Product Manager, Christopher is responsible for the continuous improvement of USU License Management (Aspera's SmartTrack) and corresponding standards to support the implementation process. In 2021 Aspera and all other USU Solutions were united under the USU brand.