"Why do we need license management for cloud applications? They're simple and billed immediately so no sublicensing can even happen."

Many companies still hold this view and it is dangerously wrong! While launching new infrastructure is easier, managing cloud costs has become dramatically more complex. In hybrid cloud environments, it can be even more difficult. Learn how large organizations can save up to 7 figures with active software asset management using these strategies.
Hybrid cloud: public, private, and on-premises license management
The key takeaway here is that licensing rules and product use rights differ depending on if you're talking about public cloud, private cloud or on-premises licensing environments. This means that your biggest cloud cost management challenge is managing your costs in every environment. To identify cost-savings using cloud cost optimization, IT leaders need a complete view of both IaaS, PaaS and SaaS environments.
Take this real-life example for Azure SQL server. You've got two different licensing options here: Pay-As-You-Go (PAYG) and Bring Your Own License (BYOL). If you choose PAYG, a one-year subscription covering 100% of usage would cost $84k for infrastructure and software. But by using licensing that you already own for your on-premises environment and applying it to the cloud, there is a hidden BYOL hybrid use benefit that delivers $10k in cost savings, less your Software Assurance costs.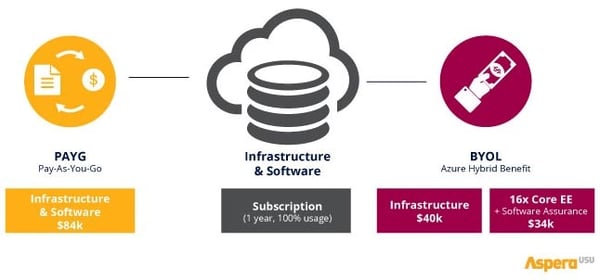 The new world order: A hybrid cloud existence
Most of us already reside in a hybrid-cloud world – licensing a mix of both on-premises, and cloud-based services. According to Gartner forecasts, the global hybrid cloud market is expected to reach $138 billion by 2023. Yet some vendors are slow to abandon all traditional licensing, and most organizations are not positioned to operate 100% in a cloud-based environment.
Keep in mind that software vendors are also racing to keep up with cloud conversion. With the shift to the cloud, we've already witnessed a shift in how vendors approach software license audits. Since cloud service fees (such as SaaS) may dilute their revenue and reduce short-term profits, you can expect software license audits to escalate as vendors try to push contracts into the cloud or generate lost sales revenue.
With a strong cloud Software Asset Management process, you can capitalize on the pressure vendors have to move you to the cloud. If you come prepared to bargain, the audit process can be potentially beneficial for your company's bottom line.
Here are three strategies to drive cloud cost management in the hybrid cloud:
Swapping unused traditional licenses for cloud services. Vendors are desperate to push cloud subscriptions. As a result, you can often proactively migrate unused "shelfware" licenses (licensing software that you already own, but don't actually need or use) and maintenance payments into new cloud services during audit negotiations. Larger vendors actually have established several programs offering discounts and incentives for you to do this. Remember to only buy the discounted cloud services on the licenses that you do not really need. We've seen extremely high discounts offered to customers who are able to position themselves with their vendor and take advantage of these programs.
Purchasing cloud services to avoid audit fees. Vendors may push you to purchase cloud services in lieu of additional fees during an audit, even if you don't actually need them. Selling cloud services remains a top priority for vendors, despite that many cloud subscriptions are being implemented at a slower rate or perhaps not even at all. For example, even though Office 365 reports revenue growth, organizations who purchased those licenses may not be ready to use them. Be savvy about what subscription services you need now – and avoid spending your budget on cloud licenses that will essentially become shelfware.
Merging your assets through cloud services licensing (all in one). Another strategy used by vendors such as Microsoft is simplification! Here the cloud licenses cover cloud and on-promise usage. In fact, Office 365 products include Dual Access rights which cover the user to access online services as well as on-premise servers. For example, the Exchange Online user subscription entitles its user to access Exchange Online services as well as Exchange Server features which makes Exchange Server CAL (Client access Licenses) useless. On top of that, bigger O365 suites such as Microsoft 365 also cover these Office Server installations. This option is not simplifying Microsoft licensing, it can also allow you stop paying Software Assurance for those On-prem products since these ones are already included in the Cloud Subscriptions.
Cloud compliance: a thunderstorm of risk
A common industry myth is that compliance risk will be lower as cloud adoption increases. However, Gartner research shows that as SaaS becomes more widely spread, compliance metrics will shift from a simple count-based system (per CPU, per core, per install) to a more complex consumption-based system (per CPU hour, per authorized user at a specific point in time). So how do changes in compliance metrics impact your risk? Consumption-driven metrics can carry serious additional financial risks of unplanned costs, particularly when more hours than anticipated are used. An effective solution is to implement consumption-based analytics into your SAM architecture to prevent unplanned costs and business interruption. In addition to a metrics shift, there are several other areas that cloud exposes for increased compliance risk within your organization. By defining comprehensive methods to defend yourself against these high-risk areas, you can further cloud-proof your Software Asset Management foundation:
Unapproved and Untracked Services: Cloud services may be purchased outside IT Dept.
Hybrid Use: Your cloud users may also use on-premises services, in addition to cloud.
Credential Sharing: Is your service user really the authorized user?
Geographies: Is there any use outside the licensed territory?
Legal Entities: Is there any use outside the licensed businesses?
Multiplexing/System Integration: Increased "indirect use" potential.
Third-Party Access: Additional compliance risk.
Cloud discovery: the forecast is stormy
It's no secret that the backbone of any successful Software Asset Management program depends on multiple accurate and up-to-date data sources for your software inventory. But cloud services may directly challenge the capabilities of your current discovery tools.
As your SAM environment fluctuates with new cloud adoption and implementation, discovery tools quickly become obsolete. In a 2016 report, Gartner asserted that by 2019, existing discovery tools will be useless for 90% of SAM needs.
For example, a tool that works in your physical Windows environment won't be the same tool that works on mobile or cloud environments. You can mitigate unmanaged risk by augmenting your SAM architecture with additional data sources and cloud cost management tools that reflect current shifts in licensing models.
Another challenge is simply being able to manage the vast deployment of cloud services. Prioritize staying on top of potentially untracked services. Vigilant oversight is crucial as cloud expands at faster rates and unmanaged assets often lead to an increase in audit activity. Many vendors are still focused on pushing you into the cloud, and have yet to begin the next inevitable wave of audit activity. Capitalize on this time to get your systems in order, and monitor shifts in license models.
Using SAM strategically
Keep your head out of the clouds and one foot on the ground as cloud adoption grows. Your organization can stay a step ahead by making sure that your Software Asset Management program is razor focused on cloud challenges. By thinking strategically about cloud cost management, you'll be prepared making cost-saving decisions in upcoming contract negotiations.
Most importantly, be strategic! Software vendors are desperate for cloud revenue right now. Be savvy and use this to your advantage. Ensure that your Software Asset Management program stays dynamic and evolving as you rise above the cloud.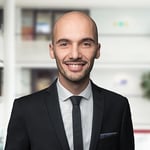 Carlos Pereira
Carlos Pereira ist Vendor Competence Manager für Cloud-Lösungen bei Aspera. Bevor er 2017 zu Aspera kam, arbeitete er als Eskalationsmanager für Enterprise Kunden im Office 365 Team, später als Microsoft Licensing Specialist. Er unterstützte interne Microsoft-Mitarbeiter in Bezug auf die Microsoft Volume Licensing Agreement Regeln und Produktnutzungsrechte.